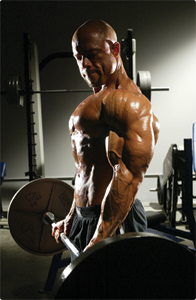 Here are 13 different Mass Machine Training Routines. Do the first one of these routines for 8 to 10 weeks; then take a full week off from any weight training; and then go on to the next routine.
NOTE: The FIRST WEEK and the LAST WEEK in every of of these training cycles, you will perform 6 to 8 repetitions. That means these Mass Machine Training Routines represent 104 weeks (about 26 months; over two years) to 143 weeks (about 32 months; just under three years) of training. This will give you the absolute certainty you need to get to the gym and train. The rest is all about you getting the very most out of every single training cycle; every single training week; every single workout; every single set; and every single repetition.
Train hard. Think BIG. You are a MASS MACHINE!
Your Coach, Skip La Cour