Take Your Efforts to the Next Level with Skip La Cour as Your Personal Coach!
Now, you can enroll in a month-to-month coaching arrangement–without a six or 12 month commitment!
Hello Men . . .
It's your coach, Skip La Cour.
I've had many people tell me that they really NEED my coaching–but feel uneasy about committing to a six-month length-of-time due to the financial investment.
I've listened to your concerns and I've created an effective plan to get you the coaching you need–and take some of the stress out of making your decision.
Month-to-Month Commitments
When you sign up for the six-month program, you can decide if you want to continue at the end of every month.
So, if you think can only afford two months, I'll bust my tail to get you where you need to go in those two months. I'm certain that, when you see the tremendous RESULTS you'll get physically and mentally and the awesome VALUE of my coaching, you'll want to continue for the entire six-month time period.
If not, that's fine too. At least you'll be on a better path to achieve your health and fitness goals.
Here's How the One-on-One Weekly Coaching Program Works
You and I will talk for 30 minutes EVERY week. We will talk on the exact sameDAY at the exact same TIME every week as STRUCTURE is an essential element to this coaching program.
Over the next six months, not only will you be held accountable for your Bodybuilding & Training, Health, Overall Fitness, Muscle-Building, and Fat Loss success by checking in with me in person over the phone each week, you will also have a variety assignments that you'll need to execute.
It's time for you to finally MASTER this area of your life!
"Your weekly one-on-one personal coaching sessions have increased my awareness of my personal power. Through your guidance, I have become more financially successful and am able to more effectively influence my patients toward getting and staying healthy."

Joel Nathan, MD
New York, NY
So Why Should You Hire A Coach?
Hiring a coach will empower you with the skills you need to build upon your current level of success and achieve your highest goals. A coach will get you to that "next level" that isn't always an easy place to get to all by yourself. As you and your coach work to achieve your "next level" through consistent, measured action, you will be gaining invaluable insight into how to generate life success in the future.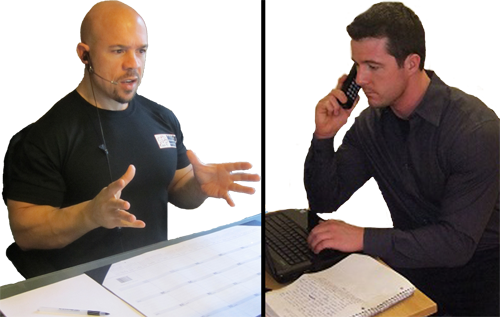 I will create a well-devised, personalized plan for your Bodybuilding & Training, Health, Overall Fitness, Muscle Building, and Fat Loss efforts that will become more apparent over time. My over 20 years in the bodybuilding, training, and fitness industry and over 25 years in the personal development/motivation field enables me to teach you in a manner that produces immediate results and even more benefits that you will undoubtedly appreciate and understand more as time goes by.
I will take you through a series of physical, mental, emotional, and psychological EXERCISES during our time together–but I must first get a good sense of who I am dealing with and where you are currently at in order to make an intelligent decision on how to proceed.
Because most people these days have unlimited minutes on their cell phones, the cost of talking will be relatively inexpensive. If you prefer internet phone services like Skype or Yahoo (or you live outside the United States), that option is also available.
"Skip has a depth of knowledge that is unsurpassed in the industry. He knows all the pit falls and has saved me much trial and error in my ownlife and business. The insight, clarity, tools and strategies I have received during Skip's coaching program have totally surpassed all my expectations,transformed my life to no end, and have proven to be invaluable."

Ben Lewis
Fitness Expert
Radio and Television Personality
Australia
Now, Just a Three-Month Commitment Is Required—With A Satisfaction GUARANTEE
I've made getting into this coaching program a whole lot easier for you!
The investment for this three-month program is at a reduced rate of $349.99 a month. You will be committed to three (3) months of my services when you sign up.
For a limited time only, you pay only $299.99 a month (the same as the six month commitment). You will be charged automatically the same day every month.
The investment for this six-month program is at a reduced rate of $299.99 a month. You will be committed to six (6) months of my services when you sign up. You will be charged automatically the same day every month.
If you prefer to book 12 months of Weekly Coaching, you'll get a significant discount of $50.00 making your investment only $249.99 a month.
Some of these Bodybuilding & Training, Health, Overall Fitness, Muscle-Building, and Fat Loss concepts that I share with you will take some time to develop. I will allow you to cancel your six-month commitment after just TWO months if you are not COMPLETELY SATISFIED with the program during those first two months.
Take action NOW. STEP UP and commit to one of these extremely limited positions.
I look forward to speaking with you.
Train Hard–and Think BIG!

Skip La Cour
World's #1 Online Men's Health, Fitness, and Motivational Coach
Six-Time Drug-Free National Bodybuilding Champion
15-Time Drug-Free Bodybuilding Champion
Success & Leadership Coach
Email Skip La Cour to work out a time and day that you can commit to every week at Skip@skiplacour.com.
"I want to say that it is a pleasure having the chance to speak with you during our coaching sessions. It is extremely beneficial to have importantinformation sorted out and limiting factors identified. I wish I had the mindsetand application of knowledge that I now have many years ago when I first startedto workout. It would've saved me many years and hours of frustration."

Phil Poon
Staten Island, NY
Three-Month Program
$349.99 a month
Sale Price Only
$299.99 a month!

Six-Month Program
$299.99 a month

Twelve-Month Program
$249.99 a month

"Skip, the picture and the news report came out after I signed the contract with the new team. They are contending for the championship unlike the team I was playing for last year, and really went out of their way to sign me. I have no doubts that the constructed meal programme off-court and constantly reminding myself of various MANformation qualities on-court helped me get this deal. For that, I want to thank you."

Ellert Arnarson
Icelandic Professional Basketball Player