MANformation is all about confidence, control, and certainty while working toward your goals in life. It's about leadership. Leading your own life first and then leading others. The MANformation mindset is all about having the vivid imagination to think big. It's about becoming more resourceful and gritty while working past all of the inevitable challenges that get in the way.
It's the rock-solid foundation to everything I share every single day. It's a step-by-step blueprint to help you get more in life. I want you to have this foundation to build upon your strengths and earn the quality of life you really want.
Hundreds and hundreds of men from all over the world have paid good money for this 11-hour comprehensive, personal development course created specifically for men. This course has changed their lives. I want you to have the recorded audio sessions, workbooks, and videos absolutely free. All you have to do is fill out the questionnaire below. I want to learn about you, what drives you, what you really want in life, and what's been holding you back until now.
Fill out the questionnaire below thoroughly. I will sometimes award FREE private, one-on-one coaching/goal-setting sessions to those men who do.
You'll get login information to get into the exclusive, MANformation members only website within 48 hours. See you inside! (Check out the course outline after you submit your request. It's at the bottom of this page.)

WATCH THIS VIDEO BEFORE YOU CLICK "SEND"

If there's more you want to tell me about your situation and you've already submitted your questionnaire, send me an email at [email protected]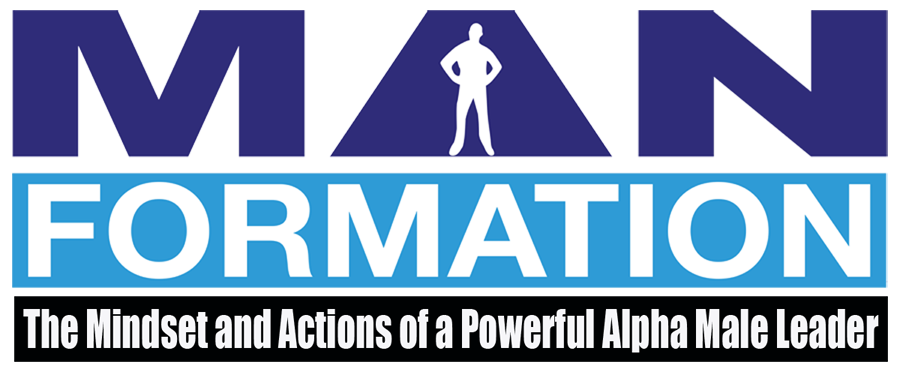 MANformation "The Mindset and Actions of a Powerful Alpha Male Leader" Course Outline
Session One

Why "Nice Guys" Finish Last
The reason why you are not getting what you want in life-at the level you really want-may be in how you are defining the word "nice" in critical situations in your life. Alpha Leaders interpret being "nice" as mature, productive MEN. Conversely, Passive Followers who struggle to get what they want in life still think and act like the obedient little BOYS that they were expected to be when they were young.
Learn dozens of the most-insightful SPECIFIC differences in the way an Alpha Leader interprets being "nice" and "fair" compared to less-dominant men and passive followers. Adopt this Alpha Leader mindset, even the playing field, and FINALLY begin to win at the level you want to win.
Session Two

The Body Language of a Powerful Alpha Leader
You can spot a powerful and charismatic Alpha Leader the moment he walks into a room, can't you? Why do you think it is so obvious to everyone that he is "the man" without knowing a thing about him?
Learn dozens of the most-intriguing, SPECIFIC things an Alpha Leader does with his body language, facial expressions, eye movements, and voice qualities in certain situations that transmits his strength, certainty, and confidence. Also, learn what he will NEVER do in other situations because doing so will take away from his powerful presence. Adopt this body language at the appropriate time and become more influential, persuasive, and charismatic to those people around you.
Session Three

The Specific Influence, Persuasion, Charismatic Skills of an Alpha Leader
The Alpha Leader has the amazing ability to get other people to willingly, joyfully, and enthusiastically help him get what he wants in his life.
Learn dozens of the most influential, persuasive, and charismatic skills of an Alpha Leader. Adopt these winning skills and you, too, will get people excited to help you get what YOU want.
Session Four

The Structured Thoughts, Actions, and Lifestyle of a Powerful Alpha Leader
Learn dozens of the SPECIFIC ways an Alpha Leader structures his day and gets himself to follow through with what he knows he needs to do to get what he wants in life.
Adopt this structure and you'll start leading your own life more effectively-and leading others too.
Session Five

Goal-Setting Workshop – Alpha Leader-Style
An Alpha Leader wins in life at an incredible level because of his outrageous standards, tremendously high expectations, and lofty goals. With what you've learned during the previous four Seminar sessions, you will NOW be ready to start going for what you REALLY want out of your life-instead of only what you've been settling for in the past.
This goal-setting session will make you more assertive, create an Alpha Leader model to aspire toward, and get you to enthusiastically work toward it.
Session Six

Successfully Integrating the Thoughts and Actions of an Alpha Leader Into Your Lifestyle
Learn dozens of the most-effective, SPECIFIC strategies an Alpha Leader executes for CONTINUAL mental, emotional, psychological, and physical growth.
When you execute these powerful and charismatic leadership strategies, you will enjoy CONSTANT IMPROVEMENT in your Alpha Leader thoughts and actions.
Here's what men just like you have to say about the MANformation course:
"Skip La Cour's messages in 'The Mindset and Actions of a Powerful Alpha Male Leader' are insightful, poignant, and thought provoking. I find myself listening to each session multiple times for fear of missing something and the internal desire to drive home these life-changing concepts. The first session alone was worth the price of admission!"
Greg Phelps, CFP, CLU, AAMS
Las Vegas, NV
"I am killing the New York City corporate world with the implementation of my MANformation strategies. Most of all I am empowered because I am aware. Thanks for your unique contribution to the few of us who want more."
Craig Ariano
Richmond Hill, NY
"I was extremely impressed at all the information Skip La Cour has shared in 'The Mindset and Actions of a Powerful Alpha Male Leader' and the way in which it is presented! I will tell you that what Skip offers will have you really think about your perceptions of what an 'Alpha Male' really is, allowing yourself new possibilities to grow and enrich your life, and the lives of those you love. I highly recommend this program to anyone looking to improve upon being the best MAN they can be in all aspects of your life!"
Tom Anthony Roehl
Greenfield, WI

Skip La Cour
I am a coach, speaker, author, and entrepreneur. I'm the creator of the MANformation personal development program for men and a six-time national champion drug-free bodybuilder.
COACH
I am a success, fulfillment, and accountability coach.
I help men get clear on their personal definition of "success." We're all different. I help men understand all the reasons why achieving that success is important to them. I help them get emotionally connected to those very personal reasons.
Success without fulfillment can be a devastating experience. Not only will you feel as though all of your time, sacrifice, and effort was wasted, you may be hesitant to think as ambitiously again in the future. Having the courage to work just as hard moving forward may be a real challenge. Many of us can't get ourselves to do the hard work today because something inside of us knows that our goals aren't going to bring the happiness we really want. I help men understand how their chosen path will bring both success AND fulfillment by offering them objectivity, perspective, and strategies.
After we set huge goals, it's important that they stay fresh and clear in our minds. I get men to remember how powerful they really are. I get men to remember exactly why the success and fulfillment they want is something they must continually work toward. We do this through one-on-one phone calls every single week.
Want to take action now? You can also schedule some time to talk to me privately on the phone by clicking this link and going to www.TalkWithSkip.com.
Skip La Cour
The World Leading MANformation Expert
[email protected]
(213)973-8790