WATCH VIDEO
In this video, I talk about the most unrecognized, underutilized, and unappreciated source of power and motivation we all have available to us. I tell you how to use this power to reach your biggest goals both inside and outside of the gym.
Are you a man who is a little bit older now, has a busy and productive life, and are more than willing to do the work required to earn a great body?
Is your biggest challenge these days getting the information you need to get the results you want? Is your confusion over finding the right strategies from someone who understands your specific situation putting a damper on your motivation?
Maybe you already have enough information to succeed and you just don't realize it. Maybe the training and eating strategies that you're already using can get the job done for you. Maybe even if the strategies that you're using aren't exactly "perfect," they're still effective enough to move you in the right direction, help you make significant progress, and allow you to make intelligent adjustments sometime in the future.
Maybe you just need to tap into more of the personal power that you already have inside of you to move forward with more certainty, confidence, and success.
Wouldn't that be a great place to be?
Watch this video and you'll immediately start using the power you already have inside of you more effectively.
TALK TO ME PRIVATELY ON THE PHONE TO HELP YOU GET FOCUSED
Talk to me privately for 10 to 15 minutes absolutely free. This week you'll have this opportunity. Call (213)973-8790. Or, go to www.TalkWithSkip.com and schedule your time.
GET FREE ACCESS! – Workouts For Older Men Members Only Website
If you're an older man with a busy, productive life and you want fitness information that uses your willpower, focus, energy, and time effectively and efficiently, then you want to get access into my special website.
Fill out the questionnaire here. I want to learn all about your goals, strengths, weaknesses, victories, and challenges inside and outside of the gym. You'll get instant, lifetime access into the MANformation Workouts For Older Men members only website filled with training, eating, mindset, and lifestyle strategies specifically designed for older men with busy, productive lives.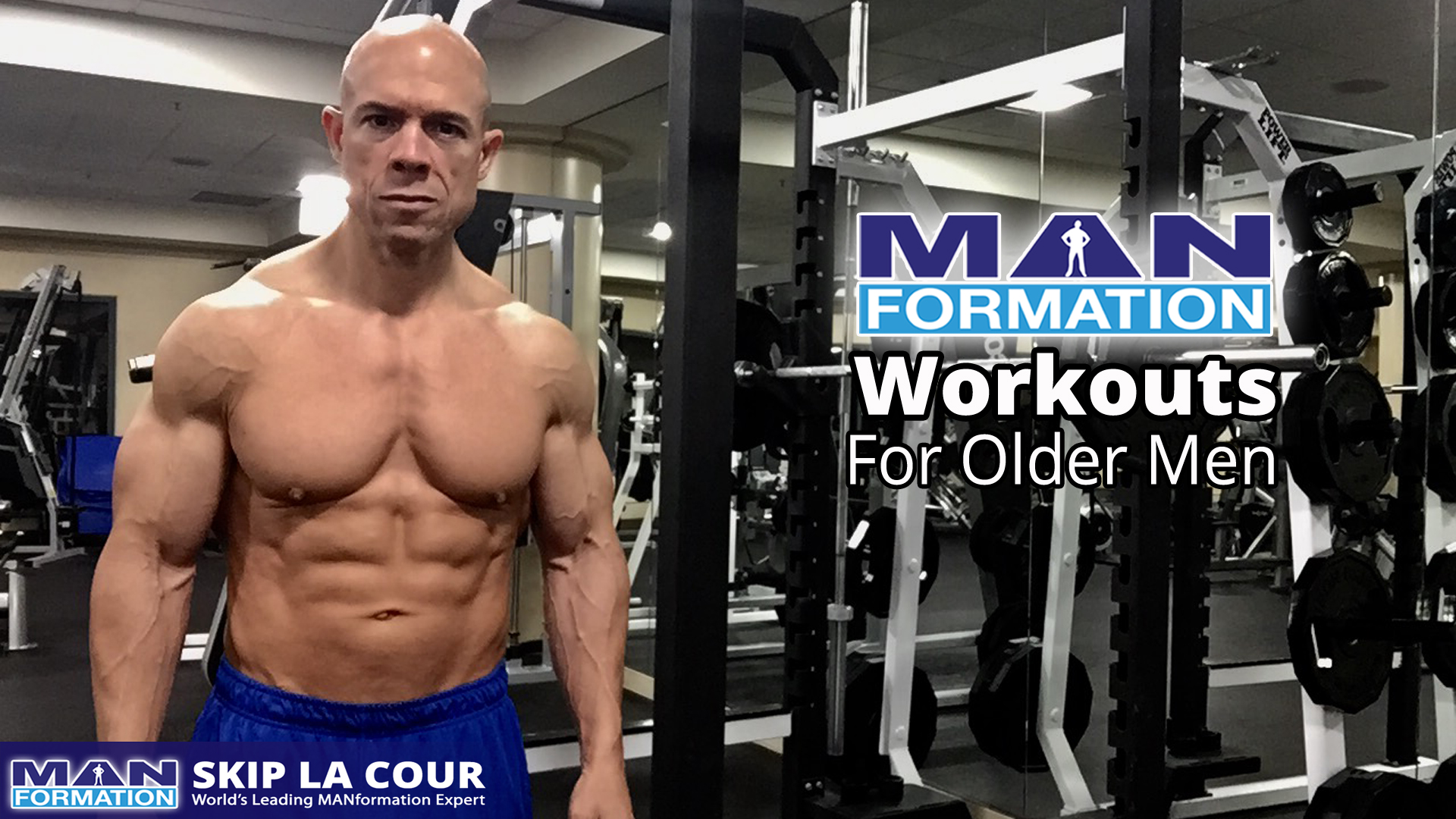 Go here now and fill out the questionnaire.
Make sure that you're on all of my social media platforms so you don't miss anything. Every social media platform has a different "language" and a different way for you to learn. Be sure to ask questions in the comments sections too. I'll be happy to help you. YouTube, Instagram, Twitter, Periscope, Google Plus, Linkedin, and Tumblr at all @skiplacour. Facebook is at @SkipLaCourPage.
Think Big!
Skip La Cour
The World's Leading MANformation Expert
Six-Time National Drug-Free Bodybuilder
12-Week Coaching For Older Men
With Busy, Productive Lives
[email protected]
(213)973-8790
www.skiplacour.com